Vasüzlet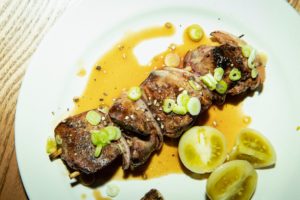 Vasüzlet is a new wave bistro in Balatonfüred, where the unique atmosphere is provided by charcoal-grilled food and handcrafted beers. Of course, a barbecue party cannot miss Balaton wines, homemade pickles and good company.
We opened our restaurant in the spring of 2022 at Kossuth street 31., renovating one of the city's most beautiful buildings. During the long history of the building, it has served many roles, but seeing the inscription on the facade, it became clear what name we would open it under.
Our chef, Mátyás Huszár, is connected to the city in several ways, he not only grew up here, but also started his profession in the town. After his professional development in Budapest, he decided to return to the shores of Lake Balaton and bring all his experience to the process of achieving his dream.
Our menu is based on seasonal ingredients, we believe that vegetables, meat, and dairy products from domestic and local producers can be combined with high-quality kitchen technology and the charcoal grill to create a unique flavor.
The saying is true about our food that appearances are sometimes deceiving. At first glance, all of our dishes seem traditional, but they are made with tricks from top gastronomy. This is how our simple dishes, which are understandable to everyone, turn into great dishes with complex flavors.
Our goal is to add a little twist to the traditional dishes found in every Hungarian kitchen, while at the same time we strive to drop the frills of fine dining and keep it simple. We do not compromise on quality when it comes to drinks either, so we offer Hungarian small-scale craft beers, which are even less typical on the Balaton shore, to quench your thirst. Of course, as a lover of Lake Balaton, you can't miss the wines of the best wine producers in the area, you can also find wines from Dávid Bökő, Figula Winery and Béla and Bandi Winery in our offer.